As technology has developed, now there are so many options when it comes to solar energy. Portable solar panels are one of them.
So in this post, I am gonna share my experience after using portable solar panels for more than a year now and some other related queries.
Are Portable Solar Panels Worth It?
Portable solar panels are worth investing in if you want to start your journey in the solar power world. Or you need a small solar power system to run your basic appliances during camping or on RV trips.
If you own an RV or like to travel, adding a portable solar panel will give you solar energy which you can use to run your basic electronic stuff.
Even if you don't have an RV or you live in an apartment it means you are not allowed to install solar panels on the roof of the building so in this case, you can still get the benefit of portable solar panels to decrease your electricity bill while still living in the apartment
just make sure you have a balcony in your apartment that gets the sunlight during the day or a place where sunlight hits during the day.
Not just for apartment users you can still use them to your advantage at a regular single-family house if you don't have a solar system installed on the roof of your home which can be costly at the start so you can take a baby step by having a portable solar panel to contribute your part in green energy to make the world a better place for our future generation.
Here's my experience of using a portable solar panel for one year.
My Experience Of Using Portable Solar Panel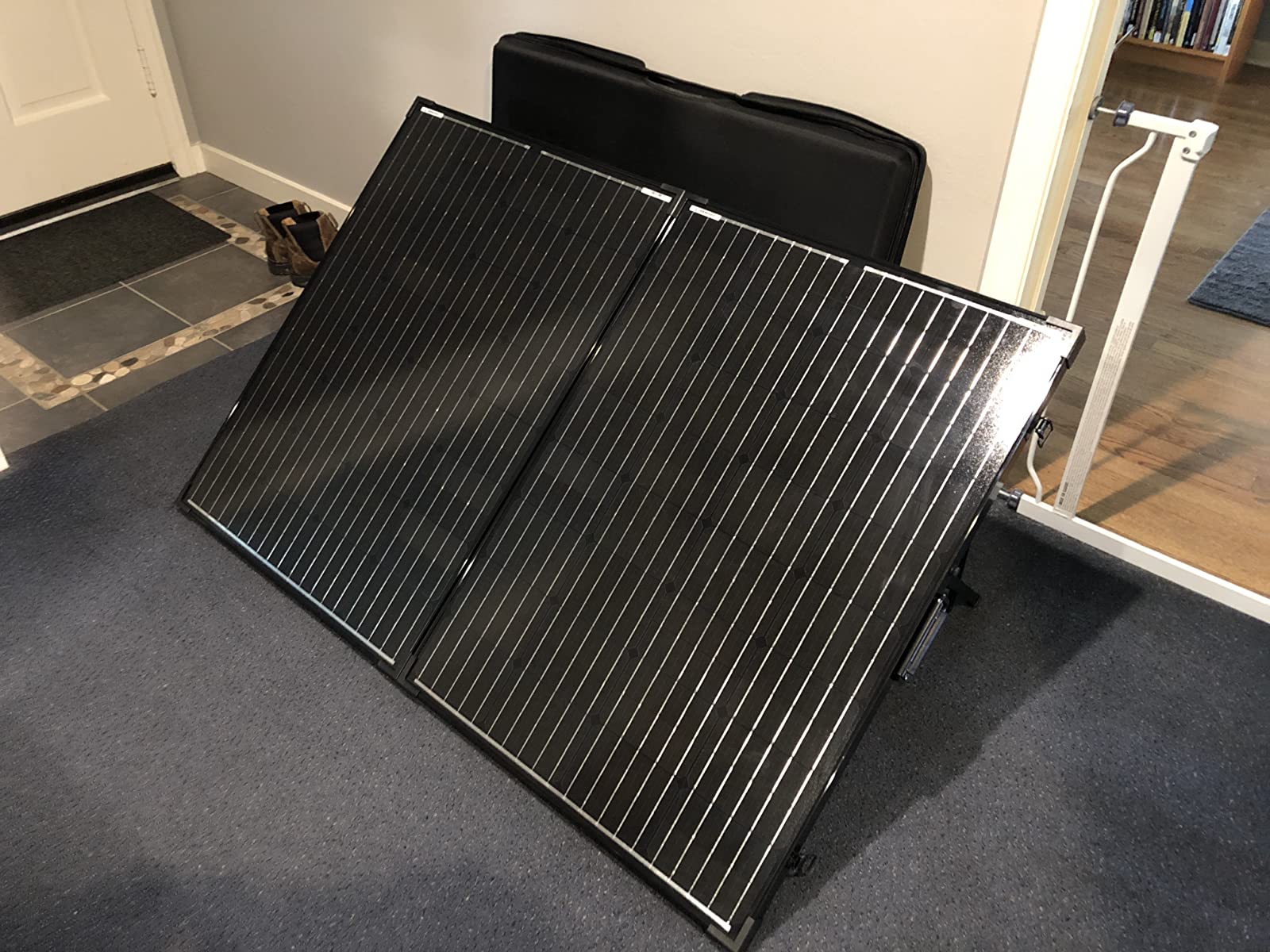 I bought this Renogy 200W portable solar panel in suitcase style and using it for more than a year now. and now I have two of them to cover my needs. I have a full detailed review article on it Click here to check
in short, I'm quite satisfied with its performance and it has added so much value to my life when it comes to traveling and RV trips.
My wife and I love to go on long RV trips. By having this we can charge leisure batteries and other small appliances like recharging phone batteries, laptops, RV batteries, and much more…
It is easy to carry on because it folds and each side has a 100-watt panel. So I can use them in parallel or in a series connection.
Are portable solar panels effective?
Portable solar panels generate a small amount of energy. Comes in different sizes and shapes but on average the portable solar panels are from 60W to 200W. which is enough to run your basic electronics on the go.
In Short, Yes, they are effective for charging small appliances during hiking and RV trips. The best way to use nature is to cover your electricity need on the go.
Advantages of Portable Solar Panels
There are many advantages when it comes to having a portable solar panel Because of their small size they are easy to carry on and will give you the power to charge your basic appliances during road trips.
Will add value to your RV trips
When it comes to RV there are two options to get solar energy 1. Rooftop RV solar panels 2. Portable solar panels
I have a whole article dedicated to this topic in which I have discussed the Pros and Cons of both of them Click here to read.
in short, here are some benefits of having portable solar panels for RV trips or TV life.
Maintenance and setup are very easy
You don't have to go through complicated wiring stuff
It will allow you to get power from solar panels while parking your RV under the shades
Easy to carry on & takes a small place
Best for Camping
My wife and I most of the time go for camping to spend our weekends (Day & Night) far away from the crowd. we're kind of introverted people so by having portable solar panels I simply place them under the sun during the daytime and connect them with my Portable solar generator which stores the electricity produced by the solar panels
which allows us to use that energy in the nighttime to run our RV lights, a small TV (to enjoy the TV shows), charging phone & laptop.
in case you're wondering about what is a solar generator and how they work so I have reviewed my Jackery Explorer 1000 which gives us the ability to run all those appliances. Click here to read.
Summary
Portable solar panels are not much effective to run the whole house or a replacement of regular roof-installed solar panels but when it comes to on-the-go energy Portable solar panels are the best option that allows you to use nature to cover your electricity needs during road trips, camping, and RV life.
They are easy to carry on, easy to install, don't take up a lot of space, cleaning and maintenance are very easy, and can generate enough energy to run your basic appliances during the trip or camping.