Thinking about buying a portable solar panel and not sure how much you should spend? Well, this article is for you.
How much do portable solar panels cost?
On average, portable solar panels cost between 20-500 US Dollars. The price difference will depend on the size and quality of the solar panel.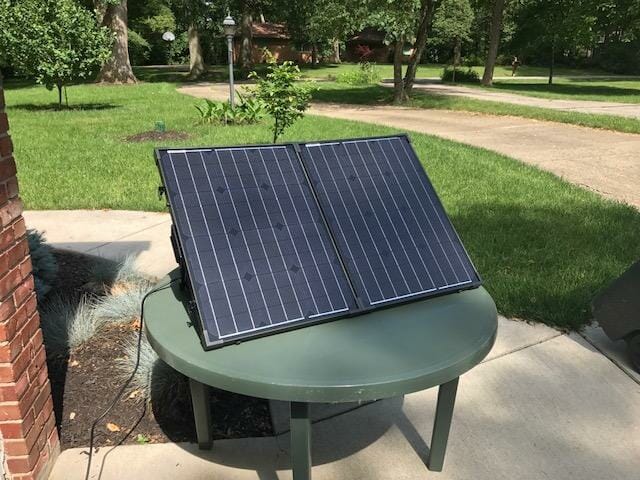 i have a Renogy 200 Watt Monocrystalline Foldable Solar panel.
I purchased this one last year in June. it cost me about $400 US Dollars. It is a 200W panel that comes with a 20A MPPT controller.
It's been a year now and I'm still using it working totally fine. Best for my camping trips and RV trips.
Full Review: Renogy 200w Solar Suitcase: (My favorite of all time!)
Popular Portable Solar Panels With Prices
| Brand | Use | Price |
| --- | --- | --- |
| Jackery 60W | Camping, RV | $200 |
| Renogy 200W | Camping, RV | $340 |
| EF ECOFLOW 160W | Camping, RV | $355 |
| Solar Charger 25000mAh | Smart Phones, Tablets | $43 |
| ROCKPALS 100W | Camping, RV | $260 |
| Zamp solar 140W | Camping, RV | $750 |
| Go Power 130W | Camping, RV | $550 |
| SunJack 25 Watt | Smart Phones, Tablets | $80 |
| Goal Zero 200W | Camping, RV | $470 |
Factors That Affect Solar Panel Costs
Now let's discuss the factors which determine the quality and price of a solar panel.
1. Solar panel Efficiency
Solar panel efficiency is the measurement of a solar panel's ability to convert the sunlight (irradiance) that falls on its surface area into electricity.
For example, a 20% efficient solar panel with an area of 1 m2 (10.7 square feet) will produce about 200 watts and a 15% efficient solar panel with the same room will produce about 150 watts under standard test conditions — STC.
A high efficient solar panel cost you more than a low efficient (same power rated) solar panel.
Full article: Solar Panel Efficiency Calculator and Formula
2. Features
These portable solar panels don't have just differences in power but differences in features as well.
For example
Built-in charge controller
Overall built-in quality
Waterproof technology
3. Manufacturing Companies
Every Company has its own rates. One company may offer you the same features and size at a lower price but the other company may charge you a high price for the same product.
A high price solar panel doesn't mean a high quality panel (sometimes). Most of the time your extra money doesn't worth it and you're just paying for the brand name.
These companies invest lots of money in their marketing campaigns. And in the end, you're the one who's paying for those expenses.
Be smart and look for quality and features. Compare them with each other, read the customer's reviews and then make a purchase according to your need.
Different Types of Portable Solar Panels and Their Prices
There are different types of portable solar panels which are made for specific tasks. So their prices are different from each other.
Phone Charging Portable Solar Panels
These panels are in mAh and max in 30 Watts. These are small in size and easy to carry on. Because of their small sizes, these are the lower price ($50-100) portable solar panels.
Foldable Portable Solar Panels
These panels are made for specifically roofs of cars and boats. these panels can fold a few degrees so you can adjust them on a round surface as well.
These solar panels come in different sizes from 5W to 200W. Their prices depend on the size and power of the panels. the average price can be between ($100-300).
For RV And Camping
These are the most expensive portable solar panels. Comes in different sizes from 50W to 200W.
They are best for RVs and camping because they are high in Watts and can produce enough energy to charge power stations and Electric Vehicles. The average price can be between ($100-300).
How To Choose a Portable Solar Panel
Choosing a portable solar panel can be very confusing when there are many different brands offering the same features at different prices.
My advice, in the end, will be not just to go for the brand name, but overall look into the product make a comparison read customers' reviews, and then make a purchase.
Summary
There are different portable solar panels brand offering the same features at different prices. But the average cost of a portable solar panel for RV's and road trips are between 200-500 US Dollars.
And the small ones for phones and other small electronics cost between 10-100 US Dollars.
Related FAQ's
Are Portable Solar Panels Any Good?
Portable solar panels are best for road trips and RVs. If you are thinking about long road trips, in that case, these portable solar panels will be very helpful to you during trips.
How Long Does A Portable Solar Panel Last?
On average a portable solar panel can last between 20-30 years depending upon its quality.