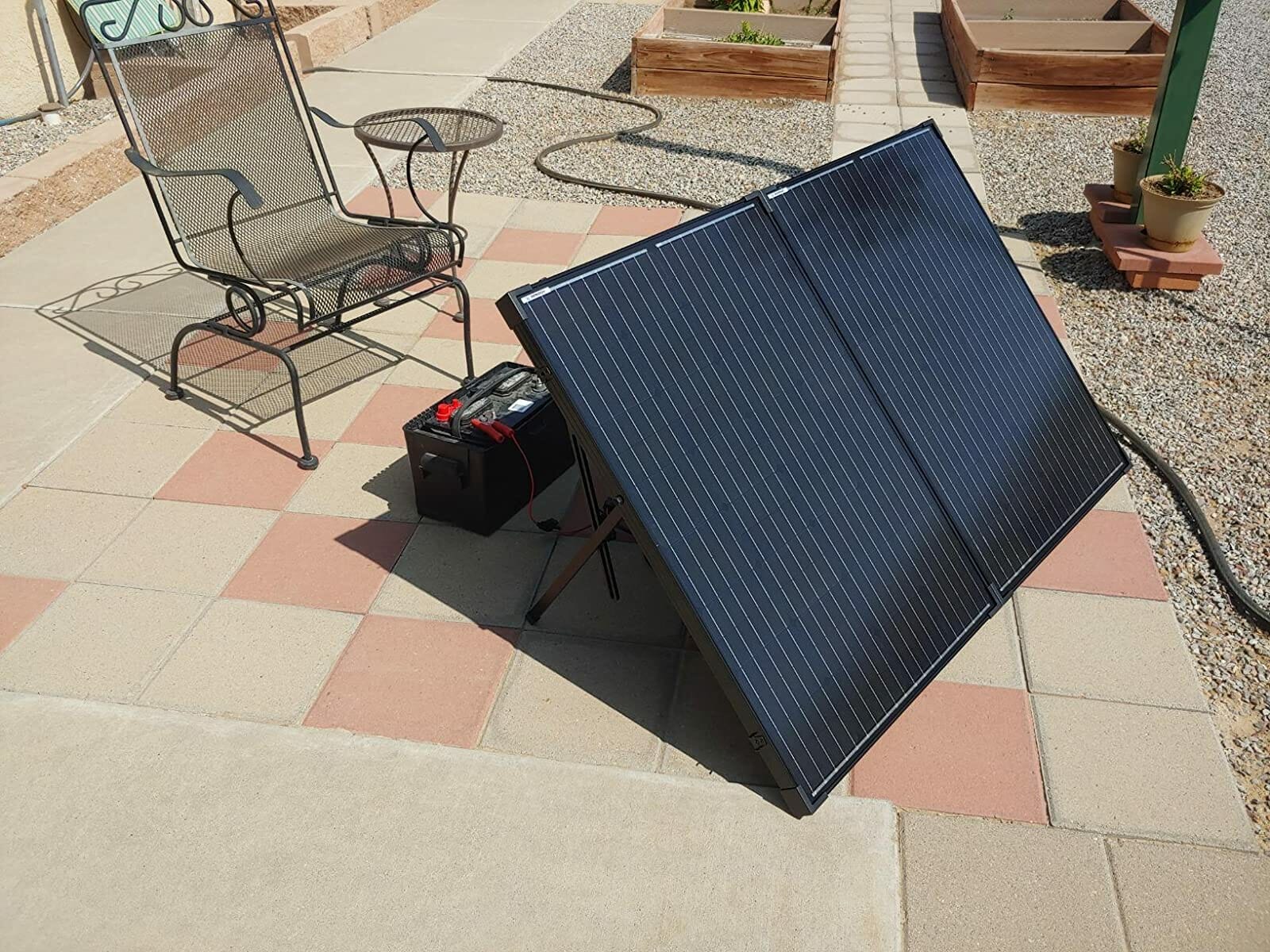 When I started looking for portable solar panels, I remember I was so confused because there are lots of brands available in the market, and no offense they all are great in terms of quality and performance.
But I choose Renogy 200 watt portable solar suitcase and I'm quite happy with my decision. So in this article, I'll share with you my experience after using this solar panel for more than a year now.
In short, the Renogy 200W portable suitcase solar panel is worth the money, it's easy to carry on and can generate enough electricity to charge your RV's battery or other appliances during camping.
Now let's dive deep into its features and what you can run with Renogy 200W solar panel.
Power Output
What you can charge or run on your solar panel highly depends on its power output or how much power your solar panel will produce.
On average, I receive 160 watts of power output during peak sun hour from my Renogy 200W solar panel. which allows me to run some basic appliances like charging my phone, laptop, lights, etc.
Related Post: What Will a 200-watt Solar Panel Run?
What I Like About It
Built-in Charge Controller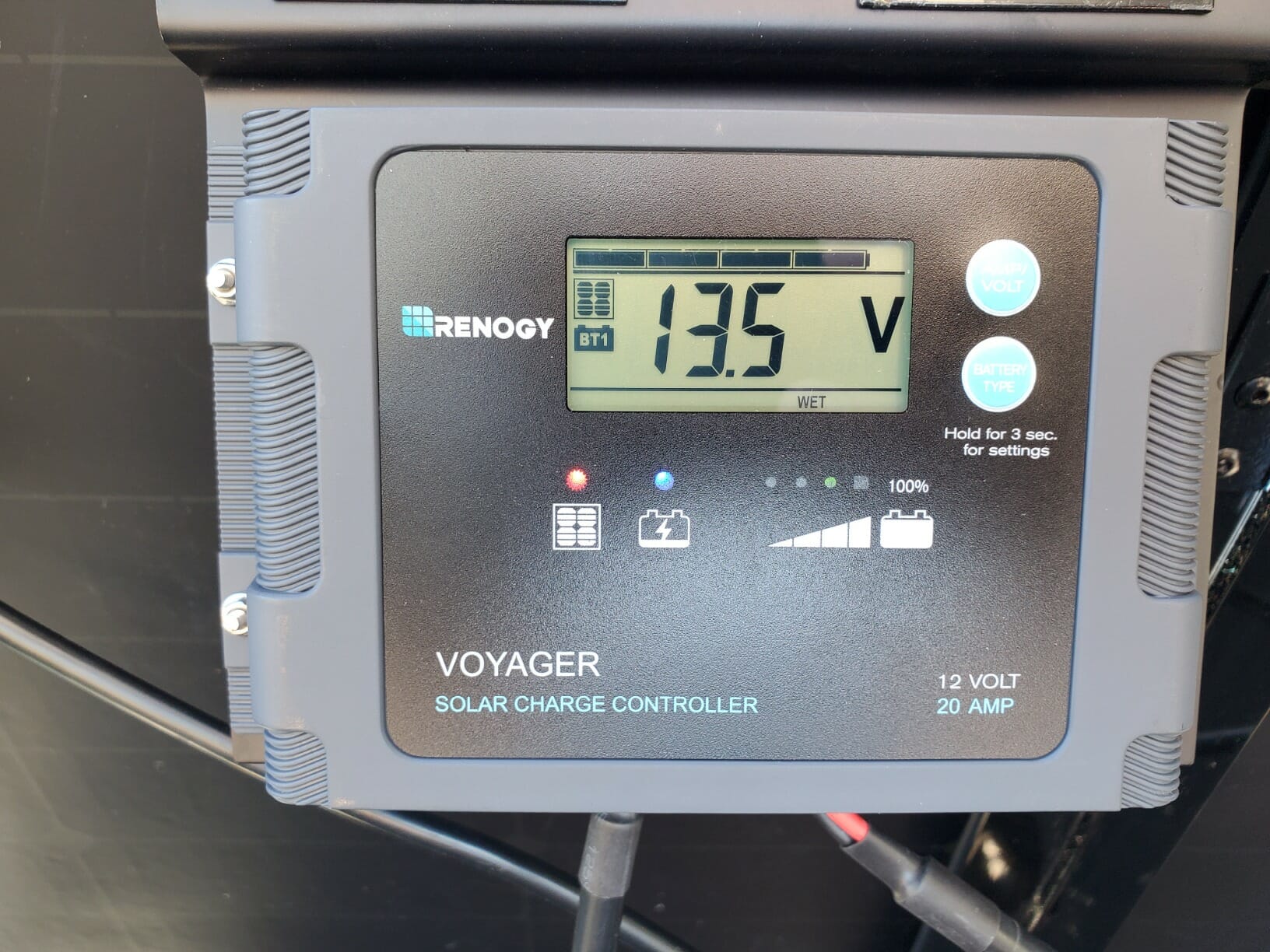 Renogy's 200W portable solar suitcase comes with a 20A charge controller with an LED display. So you don't have to purchase an extra charge controller. The charge controller will provide you with constant energy from solar panels and provide overcharge protection.
The display on its screen shows you the numbers about how much energy solar panels are generating from the sun.
It also makes it very easy to use, simply place the solar panels under the sunlight and plug the battery with your solar panels with the help of a connector which you'll receive with the package.
But there is a drawback to having a built-in charge controller which I'll discuss in a moment.
Protective storage case
It comes with a case that makes it easy to carry and also will protect the panels from getting damaged.
Cables
It comes with a connector to charge your battery with solar panels. You can also purchase additional cables according to your need.
Waterproof
This suitcase is completely waterproof, which gives me a feeling of relaxation if my solar panels are outside on cloudy days.
And also this feature makes the cleaning process easy. Simply I can wash it with water.
Portability
The Renogy's 200W solar panel is built-in suitcase-style. You can fold it like a suitcase which makes it easy to carry on and also they won't take up a lot of space in your RV.
These panels also come with a storage case for easy transportation so this is one of the most portable solar panels available on the market right now.
It also comes with built-in aluminum legs which help to place it in the direction of the sun.
What I don't like about it
Built-in Charge Controller Issue
I'm using Jackery Explorer 1000 to store the solar panel's power. so I have to create a bypass in order to charge it because the solar generator also comes with a built-in charge controller.
I wish I had known this before, so if you're gonna use a portable power station then I would not recommend this one. Instead, i would recommend Goal zero 200W suitcase portable solar panel (Best alternative)
Feels heavy
Renogy 200W solar panel weighs about 35 lbs because the frame is built with aluminum which makes it a little bit heavy. But if you're young and strong it may not be an issue for you.
Where to Buy
I bought my solar panel from Amazon. It may sound weird but actually, this suitcase on Amazon is cheaper than on Renogy's official website.
Click here to check the latest pricing on Amazon
Click here to check the latest pricing on Renogy website
I would highly recommend you purchase from Amazon because of their fast and prime shipping. which will ensure that your solar panels don't get damaged during shipping.
Unboxing, how to set up, and What's Included
My final thoughts
After using them for more than a year now I would say Renogy 200W portable solar suitcase panels are worth the money. I'm quite happy with the quality and performance of these solar panels.
If you're like me and love to go camping or even if you're looking for some additional solar power for your home these solar panels are the best option for you.
They will provide you with electricity during camping, road trips, boating, fishing, etc.
I hope this article will be helpful to you, Have a great day. Thank you!