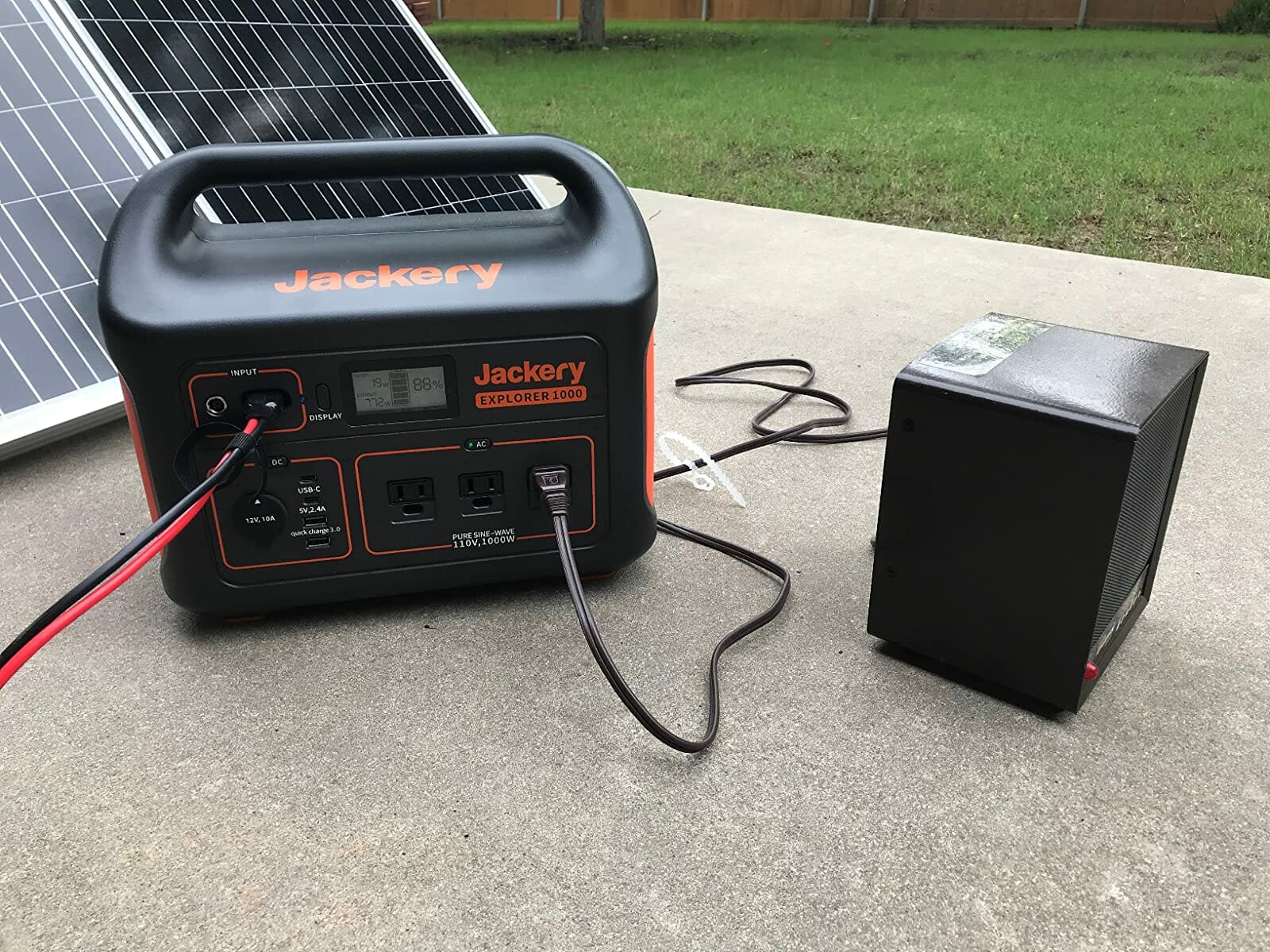 I'm a fan of camping and going out on weekends with my family or sometimes on solo trips. So I needed a device to keep me online during traveling or camping from anywhere in the world.
I came to know about Jackery Explorer portable power stations, and I purchased a jackery explorer 500. But, when they introduced their new model Jackery Explorer 1000 I instantly purchased it because I was quite satisfied with the previous one I had.
So after using it for more than a year now I'll do an unbiased review of this giant portable solar generator.
What's included/Features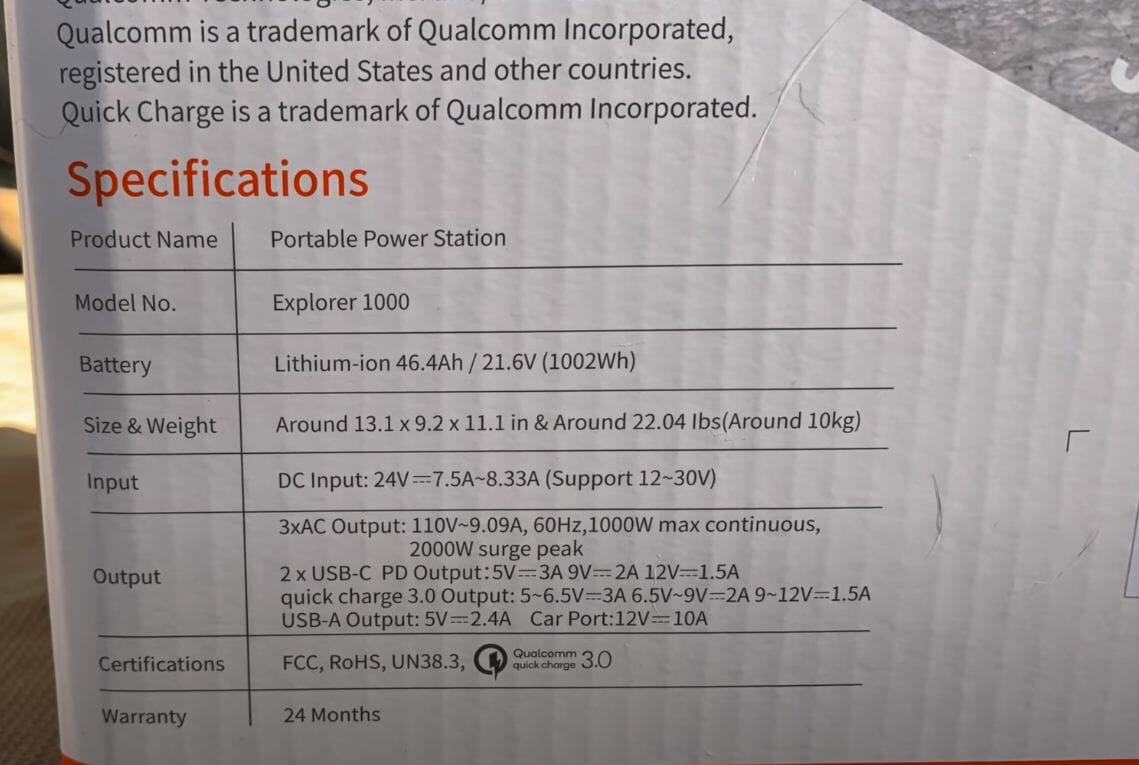 This little thing is a whole package when it comes to off-grid or portable power systems.
Jackery explorer comes with a built-in 1002Wh capacity Lithium-ion battery which is equivalent to 80 Amp-hours and a built-in 1000W or 110V Pure sine wave Inverter inside the power station. It also comes with a flashlight on the side in case of emergency use.
It also comes with a small screen that shows you the battery's remaining percentage, input power, and output power when you plugged something into it.
Which helps me to track the overall power. How much power is being used, how much power I'm getting from solar panels, and how much power is left in the batteries.
Pure Sine Wave Inverter
Pure sine wave inverter is a high-quality inverter installed in the Jacker's portable solar generator which gives a consistent output current and is best for sensitive electronics like TVs, Microwaves, and refrigerators.
Plugin Ports
It comes with 3 AC outlets to charge your high-watt electronics like TV, microwave, hairdryers, and much more. It also comes with a 12V outlet which is a stander cigarette lighter style to charge your jackery from the car.
And 4 USB ports with 2 regular and 2 C-cable styles to charge your phones and laptops directly from the power station.
What can it power & for how long?
The maximum output power in watts it can give you is about 1250W which I've tested myself. I know it says 1000W but yes it can give you power a little bit above then what jackery claims.
Which helps me to charge high-watt electronics with it. Like when my wife wants to use a hairdryer she can use it with jackery 1000. It can also keep your refrigerator running for many hours the small one and also a regular home refrigerator.
The simplest answer will be first of all look at the power consumption of the applicant that you wanna run with Jackery Explorer 100 portable power station if it's under the 1250W or 110V then you're good to go. And to be honest it can almost charge many electronics that you can think of when you're camping or even house appliances in case of an emergency.
Here's a picture that will give the idea of how long a jackery explorer 100 can run the daily used electronics.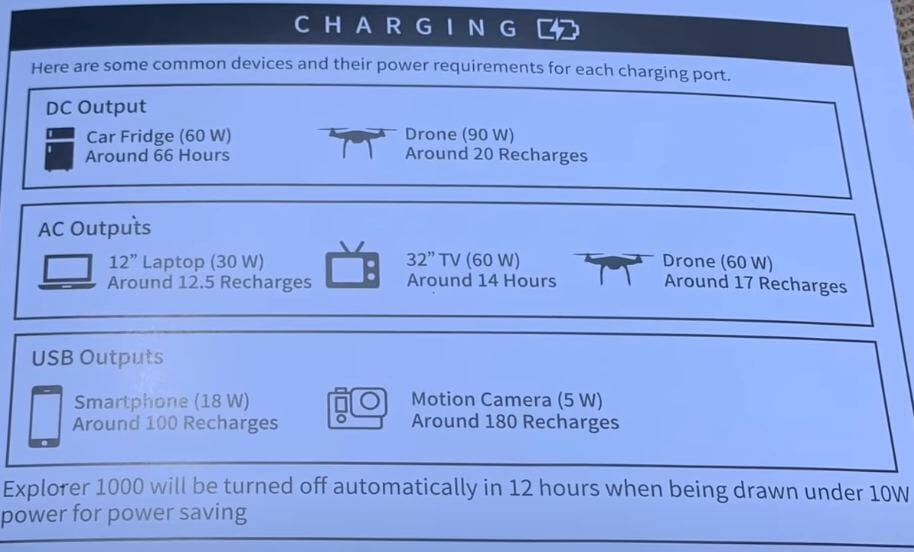 What can a jackery 1000 power?
To answer this question actually, I tested this by myself by connecting the appliances with the Jackery Explorer 1000. Which gave me an idea of what I can charge with it and for how long with the help of the display screen. Which gave the output consumption of the appliance which I divided by 1000.
Here's the list of my result, the electronics I used to test it, and how long it can power them when it's 100% charged.
| | |
| --- | --- |
| Electronics | Hrs |
| Coffee maker | 90 minutes |
| Electric grill | 50 minutes |
| Fridge (Mine & full size) | 17 / 7 hrs |
| Laptop | 13 Recharges |
| TV | 13 hrs |
| Phones | 100 Recharges |
| Camera | 50 Recharges |
| CPAP | 17 hrs |
| Lights | 76 hrs |
| Drones | 17-20 Recharges |
| Fans | 24 hrs |
| Heater Blanker | 12 hrs |
| Power Tools | 35 minutes on average |
| Toaster | 65 minutes |
| Microwave | 30 minutes |
A jackery 1000 can handle 45-50 amps output which is enough to charge most of the electronics in your house or during camping.
This gives the ability to Jackery Explorer 1000 to charge your kitchen refrigerator for more than 8 hrs continuously and can also run the microwave oven for 30 minutes plus.
Jackery 1000 can also run your Desktop computer as well for almost 4-5 hours without any problem.
Portability & Weight
Jackery Explorer 1000 weighs about 22 Pounds or 10Kg which is a little bit heavy but not too much because it contains a 1000wh battery inside it and a converter which is why it's a little bit heavy.
I'm 31 years old young, and with a good fitness level even if you're old or not at a good fitness level you can easily handle this weight as well.
The only time I have to move it around is when I need it to be charged either with portable solar panels or with a car or a regular AC charger.
This solar generator comes with a handle on the top which gives a nice grip and makes it easy to carry.
In general, it is a little bit heavier than maybe a few portable solar power generators but it is worth the effort because of its power capacity I don't have to sacrifice the power output. you can buy a lighter-weight generator but you'll have to compromise on the power output which is not worth it at least in my opinion.
I am quite satisfied with the weight and portability of my jackery 1000.
Easy to setup
The thing I love about jackery 1000 is, that it's easy to set up and you don't have to worry too much about wiring or any other complicated stuff.
I'm not good at wiring so it's perfect for me. all I have to do is to plug the connector with the generator to charge it or for output power which already has almost every option.
most of the time I use the Anderson connector to charge this with my portable solar panels. BTW if you wanna know which portable solar panels I'm using and why I have a whole article about it if you're interested to buy one for your self Click here...
It takes about a minute or two to set up this which is super convenient for me and it doesn't make noises like gasoline generators. It only has a built-in fan to make it cool during usage which makes a very little bit of noise like a small fan on a desktop computer or on a laptop.
Unboxing

The jackery 1000 comes with a car 12V charger and AC cable to charge it directly from electricity. Now It also comes with a parallel adaptor to connect two portable solar panels together to charge your generator.
Jackery is built with a good quality plastic case and is very solid.
Jackery offers 24 months warranty on their explorer 1000 portable solar generator and lifetime customer service for free.
How to charge jackery 1000
Jackery gives you the 3 different options to charge it (with the car, wall charger, or solar panels). Most of the time I charge it with portable solar panels.
I have a Renogy 200W portable solar panel with is the best in the market right now which I've reviewed here...
With a wall charger, it will take about 7 and a half hours to charge it from zero to 100, with a Car charge it will take about 14 hours and with 100W portable solar panels, it will take about 17 hours and about 8 hours with 200W panels.
Jackery also offers 100W portable solar panels which are light in weight and easy to carry for camping or trip. But I chose Renogy's 200W portable solar panels if you're confused too about which one you should pick Click here
and if you need solar panels just to charge this solar generator I would recommend you to go with jackery solar panels but having two of them combined will give you the 200W by connecting them in parallel with the help of a connector.
Things i don't like about jackery 1000
The one thing which I don't like about jackery 1000 is its recharging speed, it's slower than its competitors and I've already told you about how much time it will take to charge it from zero to 100% with different options.
Jackery Explorer 1000 max input wattage is almost 126W (About 30V and 8.3 Amps) Reference
But speaking from experience jackery's maxed input I get every time through the AC charger is about 160W more than what Jackery claims.
But yes it is slower than many portable solar generators on the market right now. I hope jackery will improve it in the future.
Here's a test on how long it takes to charge a jackery 1000 from zero to 100% with a wall charger.
As in the video it took about 6 hours and 45 minutes to get fully charged. 15 minutes earlier than what Jackery claims.
But I'm kinda okay with it maybe because I am used to it but other than this jackery explorer 1000 is worth the money and I'm happy with my decision.
Price & Where to Buy?
Jackery Explorer 1000 portable solar generator will cost you about $1000 which is a little bit more expensive than a few other solar generators available in the market right now but Jackery charge for their quality and stuff so, by using it for more than a year now I would say its worth the price.
The price may seem a lot to you right now but remember this is the investment that you're making for the many years to come which will make your campings, trips, and RV life better.
Click here to check the latest pricing on Amazon
Click here to check the latest pricing on Amazon with jackery solar panels
Summary
Jackery is an American company that makes portable solar generators and portable solar panels. The most popular product of jackery is the Jackery explorer 1000 portable solar generator which comes with a 1002wh lithium battery and pure sine-wave inverter installed within it.
Which gives you the portable energy to use anywhere in the world. you can simply store the electricity with the help of solar panels or a wall charger and can use it for later.
if you love camping or live in an RV then it is perfect for you Jackery 1000 will give you the power to charge your phones, laptops, microwave ovens, full-size refrigerators, cameras, power tools, TV, and much more.
Speaking from experience after using it for more than a year now I'm quite happy with the performance and the overall product. It has made my life easier when I go camping I can recharge my laptop, phone, and many other applications which I've discussed earlier in this blog post.
Jackery 1000 is totally worth the money if you're looking for a portable solar generator that is soundproof and large enough to run your basic needs during camping or in the house in case of any emergency load shedding.
Related FAQ's
How many solar panels does it take to charge a Jackery 1000?
I would always recommend 200W portable solar panels if you have one 200W solar panel then it's great or you can connect two 100W solar panels together in parallel which will reduce the charging time.
How many years will a Jackery 1000 last?
Jackery claims that the battery in jackery explorer can reduce its capacity after 500 cycles (meaning when you charge it from zero to 100 it's called one cycle).
So after 500 cycles, the battery's capacity will reduce by 20% which means you'll still be able to use it but yes the battery will lose its capacity. it's not that much of a big deal after that many cycles.
Just make sure to not always plug your jackery 1000 into the wall day and night continuously and if you do so Jackery recommends discharging it after 3 months to keep the battery healthy.
Can a Jackery 1000 charge a car battery?
in short, Yes a jackery 1000 can charge a car or RV's battery it even can charge your electric car like tesla it would not be that effective but you can use it in case of an emergency.